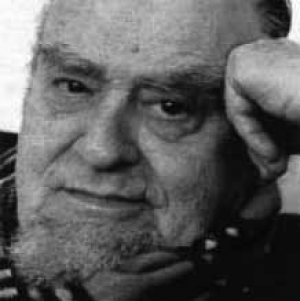 Lee Korf
Professor Emeritus Theatre Arts Department 1954 to 1957
1917 -2008
Lee grew up in Chicago and Racine, Wisconsin. He worked as a reporter on the Chicago Herald Examine and in radio production where he directed and acted in radio shows. He enlisted in the Army during WW II where he was a navigator on B17s. Major Korf was stationed in England and led the 8th Air Force on several of the famous 1,000 plane raids over Germany. A fellow Air Force buddy, actor Clark Gable who served in the same group, referred to him as "'Ouija-Board Korf" because of his uncanny navigational skills. Lee received many awards for his Air Corps service including: two Presidential Citations, six Air Medals and three Distinguished Flying Crosses. The last cross was presented by General James Doolittle who said to Lee, "You're exactly the kind of guy we need here."
Upon returning from England, Lee was assigned to the Harvard School of Business where he wrote a film titled the "AAF Comes of Age" and was assigned to the Air Force Motion Picture Unit in Culver City. After being discharged from the Air Force, Lee attended UCLA where he earned a BA, MA and PhD in English, Drama, and Theatre History.
In the early 1950s Lee taught at Bell Gardens High School and at Fullerton College. He founded the Cerritos Community College theatre department in 1957 where he was a professor of Theatre Arts and Television for more than twenty-five years. He retired in 1982.
Lee earned many honors and made innumerable contributions to local educational theatre organizations. He served as President of the Southern California Educational Theatre Association and also won their Distinguished Service Award. In 1990 he received CETA's "Outstanding Theatre Educator Award" and in 2000 earned CETA's highest award, the Medallion, which "is awarded to a member of the association whose continued service has been distinguished by leadership, loyalty, contribution and support."
Lee had an outstanding national reputation as a theatre educator as well. He was a founding member of the Association for Theatre in Higher Education (ATHE) and a Fellow of the American Theatre. He was also the recipient of the Amoco Gold Medallion for "Excellence in American Theatre" from the American College Theatre Festival. Very high honors!
Lee had a great way with words and was the founding editor of several publications including the newsletter for the University and College Theatre Association in the 1980s and the American Educational Theatre Association. He was also their Public Relations representative and was listed in "Who's Who in America."
In 1952, Lee co-founded and then edited the Educational Theatre News for SCETA. He served as Executive Editor of the ETN until 1993 and continued as California ETN Review Editor for many years. Lee fascinated and enlightened readers about theatre around the world. He used humor and wit and was always on the lookout for experiences to share with teachers and students. The ETN is the forerunner of CETA's "CETN" electronic newspaper.
When he retired from teaching in 1982 Lee started Korftours which took groups to the Edinburgh Festival, Europe and London to see theatre.
-Maxine Stanoff Lewis (1954, June 10). We Are Mourning the Loss of Two Great Theatre Educators. California Educational Theatre,3(6), pp. 13
We are sorry but professor Korf has retired... If you need to get in contact with them try the departments email address at theatre@fullcoll.edu