---
Workout given in 'Cabaret' auditions
—
Fullerton College Hornet
- Richard Hinkle - Friday, February 13th, 1981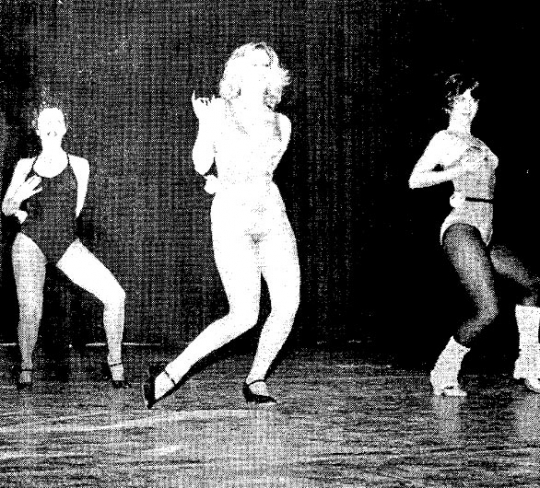 Auditions for the FC Drama Departments "Cabaret" appears to be just as lramatical as the play itself, or so,it seemed for the over 100 student~ho tried out for the 50 parts. .
During the auditions for the play, potential players went through quite a workout, they were tested for dancing, singing and acting abilities Try-outs began at 7 p.m. and ended at 10 p.m. for four nights. It was planned that each student be tested for an hour; in each category. The first two nights of trials were open to anyone who wished to audition.The last two were limited to callbacks that showed real promise.
Tom Blank, director; Mary Bartini, choreographer and Jonnie Carl, music director, oversaw the whole event. They made their own choices an collaborated on who would be suited for each part.
The dancing try-outs proved to be the most remanding for students. Jim Williams, an inexperienced dancer, found the dance trials to be quite an excruciating ordeal. Several times Williams looked up to the stage's raftc:ts as if praying for mercy. He attempted a quick exit but was discouraged from leaving by some of the crew. Finally, he summed up all his courage and bravely lived through the experience. When asked if he ,originally expected to dance, Williams replied, "No, I asked myself, 'what the hell was I doing out there.'" I just wanted to read a script. I thought dancing was easy. When you see it on TV you think that it's just a lot of hopping around."
Bartini explained that it was important for everyone to try to dance because everyone will be involved in some form. cf dancing during the course of the play.
Williams wasn't the only one having trouble. Even experienced dancers were having a hard time keeping up with Bartini's fast pace. All dancers were allotted a brief time to listen to the music and then Bartini would proceed in showing them as many steps as she could within an hour.
The dancers then found that they had to memorize most of the routine in order to dance by themselves so Bartini could choose her dancers. This was quite a complicated feat. Several times Bartini would ask, "Any questions?" and she would be answered at times wiith groans, moans and sighs as dancers bumped into and clobbered each other from time to time. Bartini warned, "Don't-get hung up on any · part, just turn when everyone else does so you don't get hurt."
Vocal talent was tested by Carl who played the piano while the student would sing. Some students were so nervous that it could be detected by the way their voices quivered or in their shortness of breath between words. Others forgot the words to songs and had to make them up as they went along. Carl said that' he could still tell whether a student had talent or not even with the distractions.
Blank tested for acting ability. He told the students how he perceived the characters and the students would try and comply. Their nervousness could be felt from their quiveringly held scripts.
Blank greeted the first call-back session by saying, "Congratulations for making it to the first of the brutal cuts! You have shown you are literate; you have a sense of theatrics and humor, and you have shown a sense of fear. I want to see creativity, a sense of play with others and a sense of flexibility."
Eve Himmelheber, a call-back, who eventually won the lead role of Sally Bowls, summed up her feelings about the whole situation by saying, "If you can keep up with the pace of this audition, you can keep up with anything. It's like a constant pressure in the back of your head I'm so worried about what the hell I'm going to do next, l don't have time to worry about the competition."
Steve Tollison, another potential, said, "I just gave it my best shot. I I'm not a singer or dancer, but she (Bartini) told us to fake it, so I did."
Shawn Donner, who also made the first cut added, "At least you're being seen and you've got the guts to go for it. If you're called back it's like a pat on the back. It makes you . feel good inside."
Other key lead roles, Cliff Bradshaw and the M.C. were won by· Clay Wilcox and Roger Keller, respectively. Cabaret will run from March 19 through the 21 and from the 26 through the 29.