---
Clay Wilcox: learning and progressing acting at FC
—
Fullerton College Hornet
- Marliee Miller - Friday, December 11th, 1981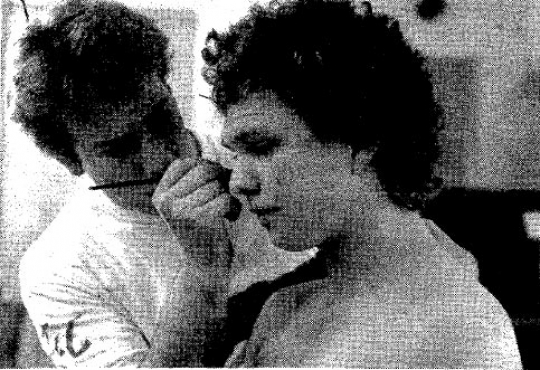 Backstage of "One Flew Over the Cuckoo's Nest" the actors are busy putting on their make-up, costumes' and preparing their characters. A curly-haired boy with round rimmed glasses impatiently waits for his curtain call.
One hour later a man in his mid 20s steps onto the-stage. Billy Bibbit is his name, and he is desperately fighting for control of his mind and his sexuality against the castrating domination of nurse- Ratched. Nurse Ratched is in charge-of the ward where Billy Bibbit lives in the mental hospital.
Both the boy and the man are one person.. Clay Wilcox, the actor, becomes Billy Bibbit in "Cuckoo's Nest," or he may become Alan Strang from "Equus."
"I'll take something in1 Billie's life and equate it with something in my life," said Wilcox during an impatient wait for the curtain call.
Wilcox chose the part of. Billy Bibbit because it used stuttering in the characterization. Not unlike other parts Wilcox has had, Billy Bib bit, is a complex individual, because Wilcox creates him so.
The entire play is set in a state mental hospital. It is a men's ward where one woman, Ratched, is in control. Ratched is always able to control Bibbit by threatening to talk to his mother. With the arrival of McMurphy, the hero, Ratched's power is threatened.
While in high school Wilcox played the Banjo in "The Man Who Came to Dinner." He created the uniqueness of Banjo with the use of unusual voice and expressions. He was also involved with the shows "Pinocchio" and "High School II.,,
During the early portion of his acting experience Wilcox was a self described introvert. "I stayed self-contained. I always had myself to go to, but now I share myself with more people." Wilcox thinks that acting has drawn him out more.
As an actor Wilcox is interested in experiencing the dramatic arts on a personal level. "It's the fact that I'm doing it. Of course, I'd love to get paid for it," says Wilcox. But for him, the money will always hold a lesser importance to the expression of art.
In recent semesters Fullerton College's Theatre Arts Department has been responsible for notable performances in "Cabaret," "Equus" and "A Midsummer 'Night's Dream." Last semester Wilcox played the lead role of Alan Strang in "Equus." Strang is a confused youth who finds himself in therapy. In one review of the show a writer described the explicit love scene as "..embarassing, crude and pathetic.. ." with the final question being, "Is it really necessary for the leading man and woman to totally disrobe and graphically portray copulative passion?"
Phil Yolk, a Hornet staff writer, failed to see the transition of the leading man and woman into their perspective roles. Wilcox was no longer acting as himself, but he became Alan Strang who ."puts out horses eyes."
"I still don't know what that play meant. Our society is so black and white. It needs a change," says Wilcox about the review. Wilcox was not insulted however: "That made me want to do it here. I'm glad it happened."
Despite the critical. review by Phil Yolk the show was a tremendous success. "Equus" played to full houses and received several favorable reviews. in local newspapers. "I don't think this department gets enough credit. We're doing something that is new so that. conservative Orange County can slip their tongues into it," said Wilcox.
Orange County may not miss him but FC will have to do without the acting ability of Wilcox. With the close of "Cuckoo's Nest" Wilcox plans to live in Los Angeles. He will be -looking for small parts or anything to make a name for himself as most aspiring young actors do. Wilcox plans to share an* apartment with a friend from the drama department and "....go up there and experience it."
Wilcox recently got his first part in a film, tentatively called "Sole Survivor.". His lines consisted of "I can't find my other shoe. What about my coat?" This may not seem like much for an actor, but those two lines may enable Wilcox to obtain his Screen Actors Guild (SAG) card. Wilcox got the part through his acting teacher who is producing the film. Said Wilcox, "Connections, boy I'll tell you it really helps."
Wilcox will be beginning his acting career like so many other college students, not knowing if he will get a lucky break or if he will be spending the next 20 years on one liners. Whether he presents himself as a simple-minded youth or a sophisticated adult, there is no assurance that he will make it.
Looking back at the show "Cuckoo's Nest," Wilcox said, "It was frustrating show. During the middle of it I got very paranoid and panicky. Then I realized it's probably the role I'm dealing with." The FC Theatre Arts Department was instrumental in pushing him towards acting: "I had and idea but I didn't know. It really suddenly clicked-:"He added, "Gary (Krinke) and Tom (Blank) are -my favs," about the two FC directors he has worked with.
Acting as a profession is known for competition. Actors vie for roles against each other, and only the best can win. Is it necessary for students to be aggressive to get ahead? Said Wilcox, "It's competitive to the point that it teaches you to be competitive in a very competitive business." Wilcox feels that aggressiveness. and acting need not be synonymous, at least not at the college level. Some people get shuffled around -- Not many," said Wilcox. Anyone can try out for plays at FC. The productions are even known to discourage typecasting.
Actors at F'C are hoping for repertory theatre which would give the students an opportunity to work with experienced actors, working actors, on a regular basis. Wilcox hopes that people will come to FC for decent drama rather than driving the long distance to L.A. for a show.
"It's incredible how well the FC department does on shows with a limited amount of time and often resources," he said. "Cuckoo's Nest" took five weeks for complete production. The intricate designs of the set were professional in every degree. The floor resembled a puzzle with the lines on the wall disjointed. The finished effect was confusion for the viewer., Wilcox and many cast members as well helped with scenic construction.
Tom Blank directed "Cuckoo's Nest" which played from late October to early November. Wilcox has done two productions with each of the directors. Jim Landis did *make-up for Wilcox during "Cuckoos Nest." The two close friends* worked together on "A Midsummer Night's Dream" when Wilcox first came to FC.
Wilcox encourages students to enter acting for their own self expression: "It's a place I can have some power."