---
'Drood' Opens with Music, Fun
—
Fullerton College Hornet
- Todd Rohrbacher - Friday, March 3rd, 1989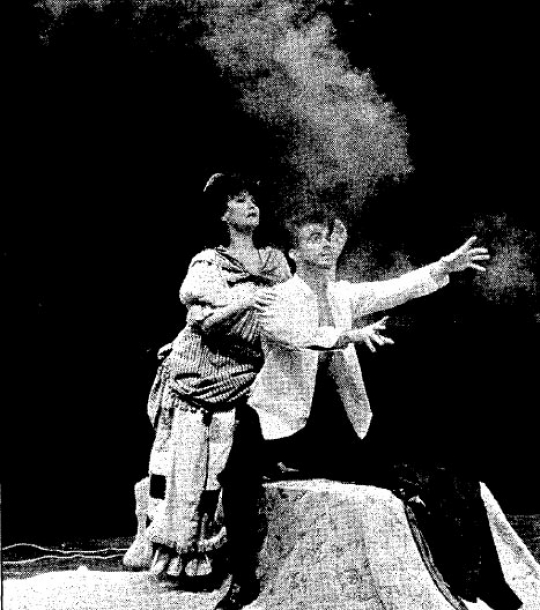 The Mystery of Edwin Drood got off to a successful run last Wednesday, opening to a full and receptive preview audience at FC's main theatre.
Drood, which is billed as "The solve-it-yourself Broadway Musical, provides an entire evening's worth of light, comical entertainment.
. For example, the cast members (in character, of course) serve as the theater's ushers and cordially whisk ticket-holders off to their seats, and periodically mingle with the audience throughout the show. In other words, the fun begins with this production before the show even starts.
Drood is set in a British music hall, circa 1880. This premise manifested itself into a lavish set that was created with meticulous detail and included several effective backdrops.
It also created a vaudevillian ambiance in which the audience could expect a little rauncy (but inoffensive) fun and a lot of bad (but inoffensive) one liners.
The story itself revolves around the inhabitants of a small town called Cloisterham. All is well in the city until the principal character, Edwin Drood, turns up missing. Was he murdered? And if so, by whom? There are many suspects, but there are also a lot of red herrings.
In the end, however, it is the audience that votes on the conclusion of the show.
Overall the performances were excellent. It was more than just good acting, however, it was the sense that the performers may have been having even more fun than the audience.
In particular, outstanding performances were delivered by John F. Massey, Jr., who played the Chairman of the proceedings and interacted effectively with the audience throughout the play and Michael Lescault (FC's guest artist) who played the villainous John Jasper.
Adrienne Iiatcher was also quite popular with the audience as Princess Puffer and seemed, more than the rest, at home on the stage. Finally, Ariella Vaccarino proved to be quite a scene-stealer as the foreign and intriguing Helena Landless.
Her performance· was, by far, the most interesting among the secondary characters. The Mystery of Edwin Drood owes its overall charm, however, to the tight direction of Gary Krinke. No details were overlooked in this production and it came together nicely.
With its large cast and somewhat extravagant dance numbers, Drood was quite an undertaking. Rare is the college theatre department that can get away with doing a Broadway musical and not seem overwhelmed by it. The troupe at FC rose to the challenge, however, and created a lively, amusing show that is definitely worth seeing.