---
Setting the stage for Othello
—
Fullerton College Hornet
- Cyndi Benjamin - Friday, October 12th, 1990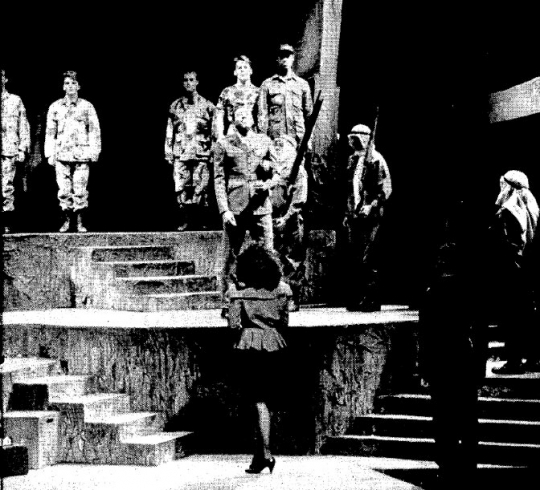 Grand, dramatic and a larger than life appearance describes the set design . created for the Fullerton College Campus Theater production of Othello.
"It is Greek in its basic design, but holds a certain eastern quality to it. The design gives an energy of danger and an unsettling sense of being,,. said Fullerton College Director Tom Blank.
Even before the actors take their places, the basic design of the set presents the struggle in Othellos world. It has many abrasive angles and a hard concrete image which provides a feeling of dominance and power.
Although part of the image of this set design is a distinct feel of power, there is also an unsettling sense as if this world is about to collapse due to society's destruction.
''These are the qualities the designer and I wanted to show on the set," said Blank.
Within the course of 5 weeks, students worked continuously to put together the set design for the production.The workers are involved with construction,welding, rigging, painting, drapery and cutting during each step in order to put the set together.
"Steve Craig masterminds the whole process. · He had a couple of classes that worked on the set in different stages," said Blank.
This particular stage . scenery is known as a unit set, which presents many sets in one stage design.Within this one stage there is a conference room for the senate, a bar in Georgetown, Othello's dining room and bed room, an officer's club and an airbase.
"In order to create the illusion of where we really are we have to relate to the space for each scene. I envision the play and walk it through in my mind and on paper before I teach the cast where they are supposed to be during their performances," said Blank.
Although a lot of work is put into creating the set design and putting it all together it is taken down in about two hours.
"That is the nature of the theater. It only lives as long as the experience," said Blank.