---
Big Top Comes To Campus: BARNUM
—
Fullerton College Hornet
- Angela Aguilar - Friday, February 26th, 1993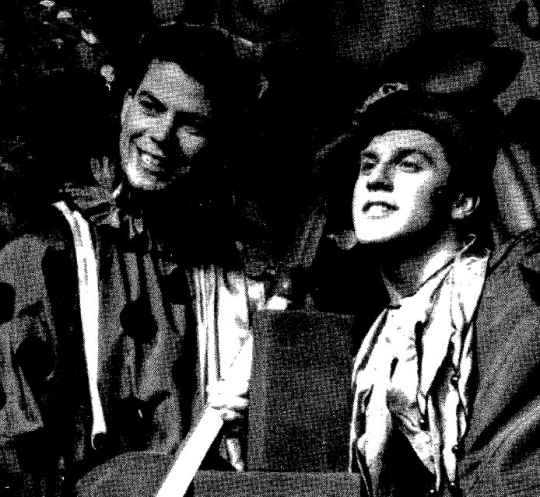 The circus is coming to Fullerton College and the campus theater will serve as the big top. "Barnum", the latest production of the Theater Arts Department is a musical interpretation of the outlandish life of Phineas Tayor Barnum (of Barnum and Bailey), "Prince of Humbug", as he refers to himself.
According to Director Gary Krinke "Barnum" is a play for everyone. "It's musically suited for the entire family. It's fast paced and energetic with a great cast that has a lot of enthusiasm," he said.
Displaying fanfare, color and a little magic, the play portrays the life of P.T Barnum (played by actor Pete Shilaimon) between the years of 1835-1880.
"Barnum showcases our students so well,"said Krinke. "It was chosen because it is a vehicle that utilizes the, talents of the students we have."
Contrasting Barnum's free spirit, is his strong, composed wife Chairy, played by actress Karen Curry. Throughout the play, the two struggle, he to make a living and use his creative genius to do so, and she to tolerate his outlandish behavior. Though they are opposites, they do compromise and are the balance that keep this act on the tightrope.
"Barnum is going to be quite a spectacle. As far as education, it'll teach you about Barnum himself; not everything has to be true as long as it's entertainment," said FC theater major Matt Tully, who will be portraying Bailey (the ringmaster). "If you choose to believe it and be entertained, that's great"
Like most of FC 's theater productions, this musical will be a great task to undertake, especially with acting, dancing, acrobatics, and singing involved, but the talented direction and cast members will without doubt ensure audiences an exciting, entertaining and fun-filled evening.
Cast members include: Rosalind Johnson as Joice Heth; Sean McNall as Tom Thumb; MarkZawatski as Julius Goldschmidt; Jennifer Rosengarth as Jenny Lind; Matt Tully as James Bailey/Ringmaster: Lavelle Wilson as Chester Lyman; Michael Sigala as Amos Scudder; and Aime Wolf as Clara (Wilton).
Barnum will run March 18, 19, 20, 25, 26, and 27 at 8:00 p.m, March 20 at 10 a.m., and March 20 and 28 at 2:00p.m. A special performance will benefit the Bronwyn Dodson Scholarship on March 22 at 8:00p.m.