---
Superb Performances Highlight 'The Crucible'
—
Fullerton College Hornet
- Kim Parkhurst - Friday, October 15th, 1993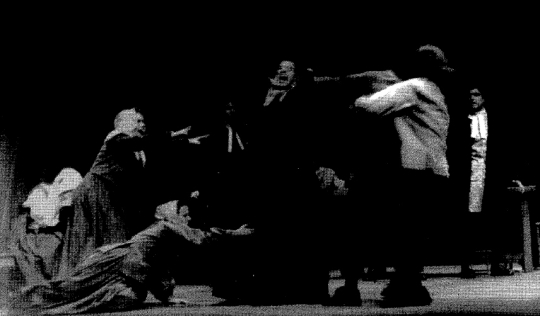 Te Campus Theatre came to< life last night as Arthur Miller's "The Crucible" hit the stage.
"'The Crucible" will run through Oct. 24 tickets are still available.
Directed by Robert Jensen,"The Crucible" tells of 17th century Salem, Mass., a time of grief, confusion, death, and hysteria-a time of the witches of Salem.
The simple stage settings of small gloomy rooms, and the chilling musical score allows the audience to escape into the past. This is just what Jensen is aiming for "The production choices were made with lighting, sound, and scenery were all designed toward hopefully getting the audience a little bit closer to a sense of enclosure--entrapment"
As the play opens,10 year-old Betty Parris (Bidalia E. Albanese) is lying lifeless in bed while her father. Reverend Samuel Parnis (Markr Fleshner), weeps and prays at her bedside. The reverend's niece Abigail Williams (Joy McCoubrey) enters with a message from Dr Griggs - Betty's illness must be from unnatural causes (witchcraft), so he cannot help her.
Accusations run rampant as friends and neighbors accuse each other of being witches and working for the devil.
Puritan farmer John Proctor(Andrew Pinon) realizes the weight the accusation carry when a woman he had an affair with, Abigail, tells the authorities his wife Elizabeth (Christine Gilb) is a witch. John is enraged with guilt and anger as his wife is carried off to jail.
Viewers are fastened to the edges of their seats as John tries to discredit Abigail's accusation before Deputy Governor Danforth (Gavin Canton), who is more determined to up hold the legitimacy of the court, than to find the truth and the justice that eludes him.
Each performer gave an impressive performance specially strong were the outstanding emotional performance by Pinonas he broke down on stage, and the magnetic performance by Carlton, whose mere presence shook the stage.
Pinon, who has three other Fullerton College productions to his credit, said Proctor has been his most challenging role so far. "It's a real challenge," he said. "(Proctor) expresses every emotion I can think of. It really made me stretch as an actor."
Gilb also found her role to be a challenge. "This is my first real dramatic role. ...you have to go deep and find something -- it drags a lot out emotionally."
Jensen, who has directed many FC productions including "Grapes of Wrath," "Heidi Chronicles," and "Indians" feels that the implications of the play made it hard to direct "People are not who they appear to be," he said. "We couldn't play it like a cartoon. The challenge was to give it some psychological depth."