---
Crucible Performance Astounds Crowd
—
Fullerton College Hornet
- Morgan McLaughlin - Wednesday, October 12th, 2005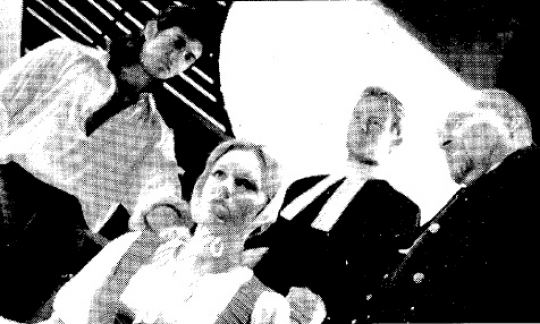 >FC's Theatre Arts Department put on an amazing show last Friday night in its presentation of Arthur Miller's The Crucible.
Audiences had a chance to see the play additional nights Thursday and Saturday, and if anyone missed it, they should be sure to catch it, if it ever returns.
Having read the novel in high school, I had high hopes for the production, as it seemed so did many others; the Saturday showing was sold out.
I was definitely not disappointed.
The opening wowed crowds with silhouetted characters dancing and chanting around a fire and cauldron, framed on stage by large tree branches and back dropped by a full moon in a dark night sky.
As the play went on, set design and acting seemed to excel even more.
Puritan ministers and reverends played by Will Jackson, Jason Paul Evans, and Deputy Governor played by Joe Parrish, did an amazing job portraying the characters, consumed by and caught up in the hysteria of Salem's witch trials.
Stephanie Rose as Abigail and Kelly Sue Eder as Mary Varren, could not have been casted better for their parts, becoming enemies of sorts, fighting with lies and pretense, morals and the dilemma of jail or death.
Michael Minto casted as John Proctor and Michele Carroll casted as Elizabeth Proctor amazingly played the parts of husband and wife ripped apart by a past of an emotional affair and brought together in the present by the ethical predicament of being hanged for honesty.
As the screen fell on Joln Proctor walking to the noose the crowd erupted in applause.
"We were wrong" was writlen across the screen in light as it raised suddenly to the scene of bodies hanging; from the stage ceiling: the full cast knelled calling out "Amen" and the screen dropped again leaving the stage black.
I don't think I have ever heard a crowd cheer and applaud so much after a screen drops at the finale of a play.
The play's director, Gary Krinke as well as the length, music, cast, set and costuming all worked together to make the play an amazing and wonderful experience.
The production truly brought to life the horror of the Salem witch trials of the 1600s.
Simply put. Bravo.