---
Todd Glen Constructs Three 'Uncle Harry' Sets
—
Fullerton College Hornet
- Liz Kelety - Friday, November 5th, 1965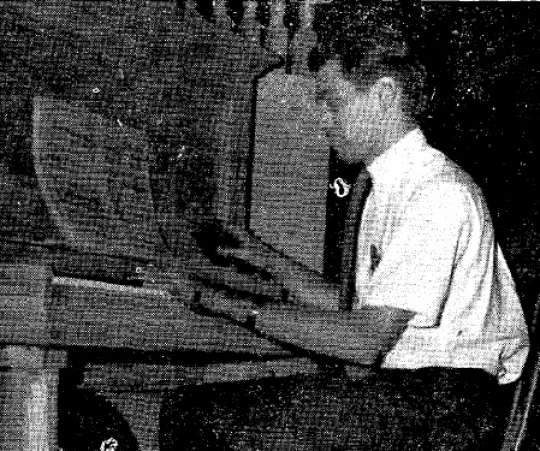 "I'm delighted by the people I work with for there's a genuine interest in the development of the arts," said the new technical director to the drama department, Todd V. Glen.
He has been working feverishly as a painter, carpenter, tailor (costumes and drapes), electrician, furniture builder, plumber and wall paperer for the production of "Uncle Harry" which premiered last night in the Little Theater on Lemon Street.
THREE SETS
In order to locate properties for the set G l e n searched antique shops, junk and wrecking yards, the Goodwill, and Cinema Props in Hollywood. When props were inaccessible due to cost or unavailability, he proceeded to build them with the help of numerous students. For, in addition to constructing three different sets: (1) the back room of a bar, (2) Uncle Harry's living room, and (3) the warden's office in the prison, he found it necessary to make a piano, several pieces of Victorian furniture and a speaking tube.
Glen came to Southern California last summer following graduation from Yale University where he earned his M.F.A. degree. Previous to that he attended Middlebury College in Vermont and received his B.A. degree.
The young instructor has worked Summer Stock in Cape Cod for three summers, in Vermont for one summer, and in Kansas City for one summer.
LIKES CALIFORNIA
Glen, who makes his home in Placentia with his wife and his eleven-month-old son, Sean, is most impressed by the friendliness of the people in California and in that respect finds them very different from the people on the East Coast. And the only complaint he has is in reference to the seemingly ever-present smog.
Softball and trout-fishing are some of Mr. Glen's interests outside of the arts but he seems to find little time to indulge in them.
The Chicago-born instructor is looking forward to the completion of the new theater arts building now being constructed on the FJC campus west of the Administration Building. He finds his temporary quarters in the old district warehouse on the high school campus to be a bit inconvenient.
He enjoys being a member of the faculty at FJC and finds his students interesting and willing to work long hours as is often necessary in theater work.