---
New Yorker will direct FC Play
—
Fullerton College Hornet
- Mark Kurisiu - Friday, November 9th, 1984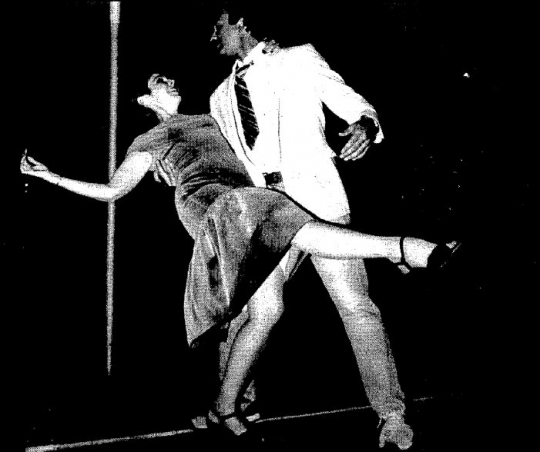 ''Picnic,'' William Inge's American classic about love, romance and family ties in a small Kansas town, will open Thursday, Nov. 29, in the FC Studio Theatre.
Directing the play will be Marjorie Hayes, a' New York thespian whose illustrious career includes years of directing, producing and teaching in theatre arts.
Inge's "Picnic" will begin its story in the joint backyards of two middle-aged, women (Helen Topp as Mrs. Potts, and La Verne Francis as Flo Ownens). Flo wants her 18-year-old daughter Madge (Dorothy Haley) to marry Alan (Joey "Tartuffe" Hufferd) who plays a rich boy in town. Flo wants her daughter to be better off than she was at her age.
Everything's fine, until one day Hal (Thor Edgell) invades the setting. Hal, who went to college with Alan, but dropped out, is an. attractive young man, but also a bit of a braggart. As time goes on, Madge finds herself becoming more and more attracted to Hal.
"'Picnic' is essentially a love story," says Hayes. "It should be unforgettable and exciting ... not only for the audience, but also for the actors."
Hayes also pointed out that she was "real excited about the cast. in general. I was happy to have so many people audition; I got exactly the right look for all the characters,"
The scenery and lighting for "Picnic" was designed by Theatre Arts faculty member Bob Jensen; the costumes were designed by Gary Krinke, Theatre Arts chairman.
Hayes has directed such plays. as "All Soul's Day" and "Prometheus Bound." She has co-produced "Air For One," and "Mount Analogue." She has also worked closely with Jerzy Grotowski, the famous Polish director.
Said Hayes: "Gary (Krinke) has been absolutely fantastic to work with. He's let me do my own thing."
.Tickets for "Picnic" are $4 general admission and $3 for students and senior citizens. They may be purchased at the Fine: Arts Box Office Monday through Friday from 11:30 a.m. to 1:30 p.m. VISA and MasterCard reservations are accepted. Call 871-8108.