---
Shrew To Be Tamed Wed.; Production Runs To Nov. 14
—
Fullerton College Hornet
- Barbara Graham - Friday, October 30th, 1964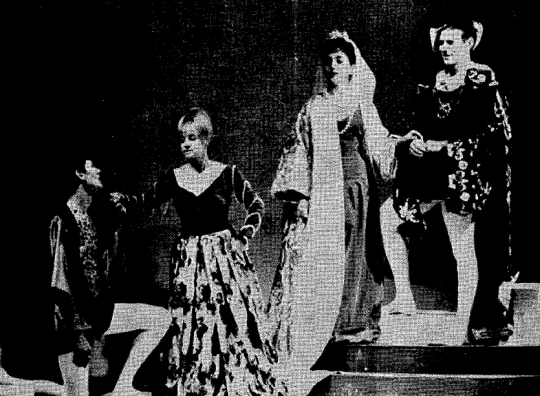 This year marks the 400th anniversary of the birth of William Shakespeare, and the FJC Drama Department is honoring the Bard by presenting his play, "The Taming of the Shrew."
"The Taming of the Shrew," directed by Mr. George Stoughton, is one of the Shakespearean comedies. It tells the dream-story of Katharina, an independentminded woman in an era when women were for ornamental purposes only. Katharina is a woman of exacting tastes; she will not settle for just any man. How to subdue her is the problem faced by Petruchio (the tamer of the shrew).
The Bard has made use of all types of humor in the play, ranging from the subtlest of wit to the broadest use of slapstick. The play is farcical, with the timing of circumstance and situation contributing a goodly part of the humor.
The roles of the protagonists, Katharina and Petruchio, are performed by Marlene Schoner and Terry Phillips, with Janie Briggs as Katherina's younger sister Bianca.
Scenery for the play was designed by Katherine Sellars as her theme she has selected colorful abstract curves in order to create a light, humorous mood. Colorful costumes, designed by Trina Portillo, are made in the style of the Renaissance period.
The curtain goes up for the first time Wednesday, Nov. 4, at 4 p.m. in the Little Theater. This matinee is a special youth performance. Other special matinee showings for youth are scheduled for Saturday Nov. 7 at 2:30 p.m. Admission charge for children attending the youth performances is 50 cents.
The Faculty Club performance is scheduled for Saturday, Nov. 7, at 8 p.m. FJC faculty members will be admitted free with Faculty club cards; for visiting faculty members the admission charge is $1.
General admission performances are scheduled for Thursday and Friday, Nov. 5 and 6 at 8 p.m FJC students will be admitted free with their ASB cards; for visiting students the admission charge is 75 cents. General adult admission is $1.50.