---
Visit Analyzed As Provacative
—
Fullerton College Hornet
- Staff Writer - Friday, November 10th, 1961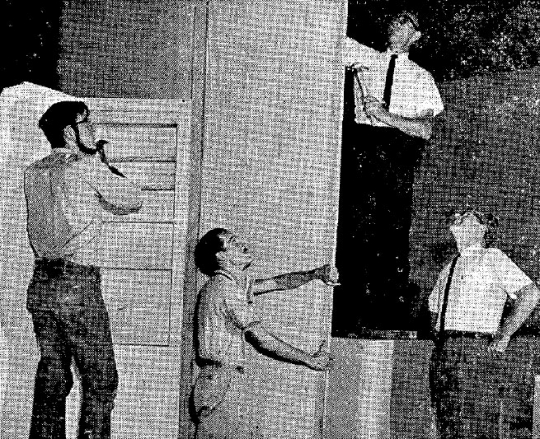 The coming of the Visit to the , FJC Auditorium next week will be the script we have beer waiting for. It is the long-needed antidote to superficiality and optimistic illusion on the American stage. With one hand, Friedrich Duerrenmatt, the author, has put theater back in the theater. With the other, he has depicted more truly than any of his play writing contemporaries the grandeur and misery of man.
The story deals with an incredibly wealthy woman who returns to her hometown, which is in economic trouble. The Burgomaster hopes the lady will come to their aid. She will, and with a sum far greater than they have ever- imagined. But there is a condition she wants the life of Anton Schill, who is now the town's most beloved citizen. Schill had years ago caused her to be expelled from the town in disgrace, after a rigged trial.
The village, of course, rejects her preposterous offer. But Madame Zachanassian retires to the balcony of the local hotel where, as she says, "I can wait."
Mr. Duerrenmatt, with this electric beginning, might now move toward comedy, satire, melodrama, or what you will. By some miracle, as it seems, he has wished to look straight ahead and ask with all seriousness what the bizarre situation implies about. human nature. He focuses upon two primary realities - the love of money and the fact of guilt. One might think these two realities would be hard to hold together. If the playwright, shows, as he does, that the town will eventually yield its sense of justice to I its love of the money, it would seem that the question of Schill's guilt would have to be sacrificed to that theme. If the town is so row as to take his life, must he not appear the innocent victim ? It would be an easy way out. By making the villagers the villains, you make the lone man a maligned hero. But Mr. Duerrenmatt is wiser. He is not willing to paint the face of one evil by blotting cut the feautre of another. He holds therefore, that Anton Schur is in fact guilty of that with which Madame Zachanassian charges him, and. that he cannot escape this guilt by any subterfuge - neither by pretending that old wrongs should be forgotten, nor by explaining the guilt away as a purely subjective phenomenon nor by hiding behind the greater sin of others. He is pursued by two foes- his own knowledge of guilt and his certainty that sooner or later the town will kill him for money. But he declines to leave this place of torture and guilt, lest leaving it he should also take leave of himself.
In painting this picture of a man who knows that in facing his guilt he is superior to those who will kill him unjustly because of that guilt, Friedrich Duerrenmatt has given us a picture- a true picture- of modern man. The man has stature. It is the stature not of kings or princes or financial barons. It is not the stature of the man, corrupt as we are, who will not abdicate his humanity, who knows that if he loses his guilt he loses his right to be called a man. (extra note: "The Power and The Glory")
Sitting on her balcony amid her wealth and her fortune, Madame Zachanassian knows what will happen. She is without bitterness, living neither in hope nor in despair but in the knowledge that money and guilt eventually will combine to give her retributive justice she requires. With the impassivity of a goddess, she presides over a world that is devoid of grace. It is Mr. Duerrenmatt's deliberate intention to depict such a world. At the town meeting where the citizens vote whether to take the life of Schill, the rector of the high school pleads for mercy: "Only he who hungers for grace will receive grace."
It should be obvious by now that "The Visit" is not a realistic play. It is instead highly and properly theatrical. It maintains a marvelous blend of theatricalism and realism. The settings will avoid expressionism and mannerism while they are so free and selective that they allow the play to move through countless scenes with perfect fluidity. Mr. George Archambeault, our fine director, has kept the play moving somewhat in the manner of< a motion picture. One might say that the form is fluid in technicalities but rigid in relation to substance. with powerful effect.
No one except you, the audience, can predict the success of such a stern play as "The Visit." And because of this, the student body has made available to you one free ticket with your ASB card. for either night-Friday, November 17 or Saturday, November 18 -from the Dean's Office. Regular prices are adults-$1.00 and students $.75. We urge you to take advantage of this offer, for we know that "The Visit" will provide for you both an intellectually productive and rewarding evening.