---
New show is coming to Fullerton
—
Fullerton College Hornet
- Rebecca Silveyra - Wednesday, November 3rd, 2010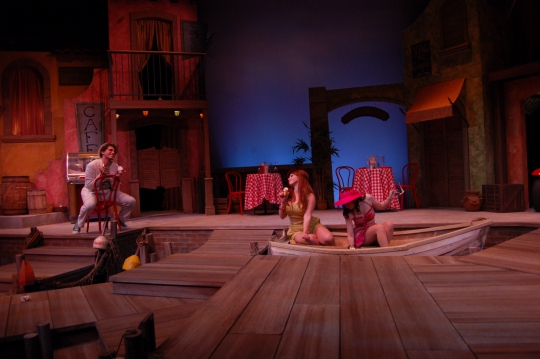 Fullerton College Theatre Department brings the wickedly fun comedy, "Scapino," to the stage for students to enjoy a good laugh.
Based on Frank Dunlop and Jim Dale's adaption of Moliere's original script, Scapino is the tale of two young men who find the loves of their lives. However, both their fathers would not let them be with their desired brides.
In a desperate attempt to refute their fathers, they turn to their servant and reputable con man, Scapino, to help their dilemma.
During the play, Scapino performs witty and outrageously funny schemes to trick the sons intolerable fathers into giving him money to finance the sons' plots.
The play, directed by Chuck Ketter, went into production the first week of school starting off with auditions which started with simple monologues students had to perform. Selected students received callbacks and had to perform one minute improvisation skits and group work.
Gregory Cesena, who plays Scapino, did not originally see himself playing the part of a con artist. "As I started reading the script in between the auditions and the callbacks I was thinking 'I gotta play this part,' as much hard work as it was," said Cesena.
50 students auditioned for the play and 14 were casted for parts. The servants and waiters in "Scapino" did have scripted parts.Throughout the play they act on pure improvisation and do interludes in between the scenes.
The actors have been in production for almost seven and a half weeks throughout the fifteen weeks of the semester. Other hours consisted of the acting workshop class helping building the set, working the costumes, and promoting the show.
Ketter chose the show because not only was Scapino one of Ketter's favorite shows, but he once was an understudy of an actor who played in Scapino. After the actor left the production to take up a job offer, Ketter stepped in for the role.
"It was a fun show to do. It's silly, it's crazy, it's zany and it's being a kid,and the memories of that are still with me of when I did it before", Ketter said.
In contrast to the theatre's first play of "Frankenstein, Ketter wanted to give the students different styles to work with.
While Frankenstein was dark, dramatic and explores different themes and issues, "Scapino" is nothing too serious and doesn't hold any deeper meaning than what it presents.
"Scapino" is the type of play where the audience can enjoy two and a half hours of wacky scenes of people swinging off ropes and actors getting to play around in a kid environment causing mayhem.
"It feels good inside to go off a swinging rope and to just go out and play," said Cesena. "You learn a lot about yourself by doing something as silly as this and what it means to be an actor."
"Scapino" opens on Nov. 10 at 8pm in the Fullerton College Bronwyn Dodson Theatre.
The play will run for two hours and 30 minutes with an intermission. It will be showing until Nov. 14.