---
Cross-Dressing Worth Watching
—
Fullerton College Hornet
- Charlene Ponce - Wednesday, October 15th, 2008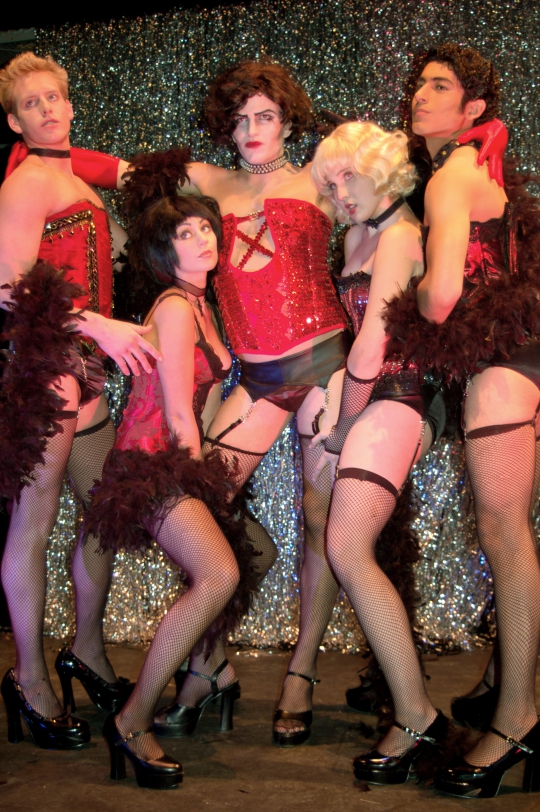 "The Rocky Horror Show," written by Richard 0' Brien, is a long running musical production
originally staged in Great Britain.
The production gained so much success and popularity that it migrated overseas to the United States, debuting at the Roxy Theater in Los Angeles in 1974.
In 1975, the show was adapted into a film called "The Rocky Horror Picture Show."
The cult classic is considered to be one of the most renowned and financially thriving midnight showings in film and musical production history.
Indeed, it is a treat for Fullerton College to present such a wildly successful show.
What is so particular about this show that sets it apart from others?
"The audience is participatory," said Mae Meller, who is stage manager for the musical. "We've integrated some of the dialogue from the movie into the musical."
Besides being one of very few midnight movies to be showcased at FC, another unique factor about this production is the effort being put into all of the costumes.
"They're custom-made by the students of advanced costume class for every character, including ensemble," said Raul Avina, dance captain of the show.
As if that were not distinctive enough, "The Rocky Horror Show" has a faculty member as part of its already prominent cast.
Bill Glassman, a current teacher at FC, plays the narrator.
Glassman was convinced to join by Gary Krinke, the director of the sultry production.
Having worked on previous shows together such as "Taming of the Shrew" and "Philadelphia Story," Glassman could not pass up another chance to work with Krinke.
"I've learned over the years that when Gary says 'I have a project for you,' you automatically say yes. The guy is a genius," Glassman said.
With a participating audience, tailor-made costumes and a formidable director, "The Rocky Horror Show" is a curiosity to be explored.
Halloween is just around the corner and what better way to celebrate than to attend the midnight presentation of the show?