---
Shakespeare in the park a success
—
Fullerton College Hornet
- Dru Ann Copping - Friday, May 13th, 1988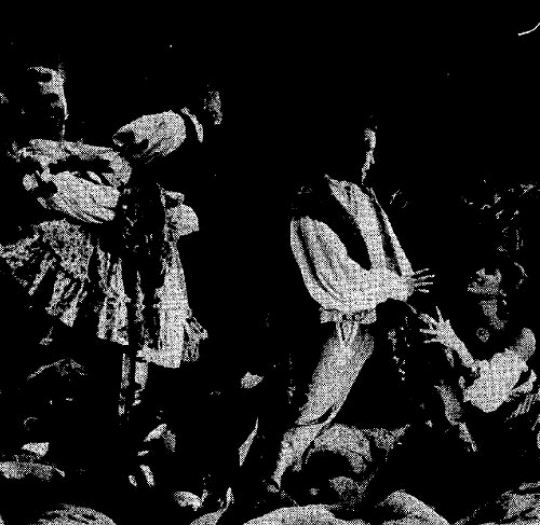 The night air is crisp and the stillness is only interrupted by the distant sounds of the birds. Ducks rest peacefully. around the pond. as we make our way up. the narrow path. to the campfire. The silhouette of the trees against the moonlit sky provides the perfect backdrop,for this is the mythical .city 'of Athens, and the rolling hills are the forest where fairies and young lovers gather together.
This is the setting for the FC Theatre: Arts. Department production of "A Midsummer Night's Dream" amid the stars at Tri City Park in Placentia. Mother nature supplies the ideal stage and the FC students supply some outstanding talent for this unique production.
One such talent is Royce Reynolds, who portrays the' greedy King of the Spirits World, Oberon. With his rich baritone voice, Reynolds takes charge of the stage showing the ruthless as well as the sensitive side of Oberon.
His sidekick Puck, played by Joni Northrup, exhibited. non stop energy as she leaped to and from tree limbs carrying out Oberon's *evil deeds. Making gurgling sounds of delight and walking like a marionette, she 'brings this 'mischievous imp to life."Danny Moreno plays -the extravagant Nick Bottom, who* commands your attention with his humor and good nature. Even when he is wearing the head of an- ass, *Moreno moves and speaks; eloquently.
Two of the shows biggest stars are Irma Ramirez as the tiny but mighty Hermia, and Julie Guevara as 'the strong willed Helena. Conspiring with, and sometimes against each other, these two women will stop at nothing to get what they want. With the stamina of pit bulls they pair off for a dogfight, over the men they love, both determined to win.
Director Gary Krinke produced the perfect ambiance by having the audience follow the characters from scene to scene. As the audience sits casually around the stage; characters interact with them bidding that they follow the action over bridges and through the trees. Coleman lanterns provided the light; creating mysterious illusions in the pitch dark.
For those who are reluctant to see a Shakespearean play, you need have no fear, The demonstrative manner in which the play is presented allows everyone to enjoy it. The spirit of the cast together with the superb setting makes it a winning combination.
"A Midsummer Nights Dream" plays tonight through Sunday at 8 p.m. at Tri City Park in Placentia.
Tickets are $4 and free to students with AS cards.