---
'Eye' Continues JC Studio Run
—
Fullerton College Hornet
- Lauri Berry - Friday, May 16th, 1969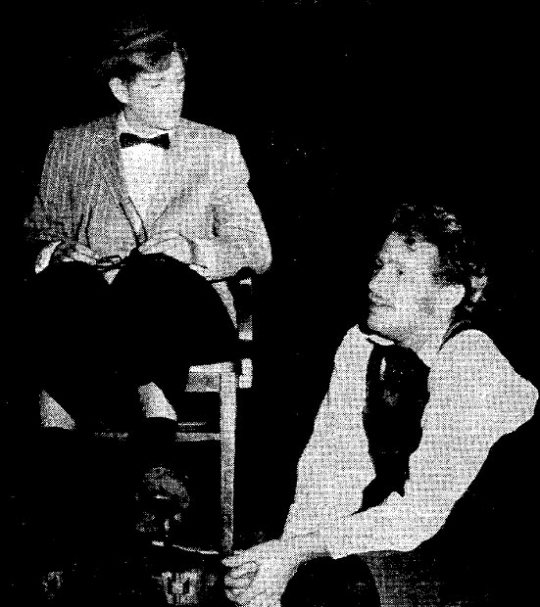 "Red Eye of Love," Arnold Weinstein's spoof on American values, continues in its second night tonight in FJC's studio theatre under the direction of Theatre Arts Instructor Cosmo Inserra.
The comedy is scheduled to run tonight, tomorrow and next week, May 22, 23 and 24. Tickets, free to ASB card holders, $1 to other students and $1.50 to non-students, may be bought on reserve in the Theatre Arts department office. The play begins at 8 p.m.
The show opened last night despite injuries to members of the crew during the six weeks of rehearsal. Beckie Villalvazo who plays Selma, a lead role, sprained an ankle and Raynette Halverson, a member of the technical crew, suffered strains and bruises from a fall off a 20-foot ladder.
First Comedy
" 'Red Eye of Love' is the first comedy that has been put on at FJC in a long time," Bill Verderber who plays O. O. Martinas,meat department store enthusiast, commented. "It's a satire that has only been presented once before on the west coast - at UCLA about two months ago."
Mr. Inserra said the Theatre Arts department's last production this school year has fun with everything from love to marriage to World War II, from business to policemen to the man-on-the street.
Studio Theatre
He said since only two plays are allowed in the Campus Theatre each year, "Red Eye of Love" is being-staged in the studio theatre, a more intimate setting. The theatre seats about 150.
Props for the play were made under the direction of Todd Glen, stage and set designer. These range from a taxi to a casket.
Other lead roles are played by Ron Coffman as Wilmer, and Steve Shaw and Mike Ludwig as policemen. The 25-member cast also includes Betsy Young as a cab driver, Chris King as a vendor, Linde Wetzel as Frances and Corky More as Young Bez.
Cast Role
Also in the company are Marty Herzog, Hank Kuznkowski, Bob Hampton and Wyne Bears as soldiers, Evelyn Boxer as a woman, Ted Vasquez as a newsboy,< Janet Bartholomew as a scrub lady and Rick Strauss as a watchman.
Completing the cast are Jennie Romney as Big Bez, Cliff Senior as a tough, Jim Waring as Aluim, Larry Travis as Uncle Sam, Gary Barlow as a boy, Don Stuart as a thief, Sue Vendrell as a victim, and Syd Digert as a waitress.
"It's a new experience for all the actors, full of slapstick surprises that turn out to be thought provoking," said Sue Vendrell, a cast member. "It's the last play to be directed here by Mr. Inserra since this is his last semester. The cast hopes it will be a tribute to his credit."