---
Soul-searching Drama On Stage
—
Fullerton College Hornet
- Jordan Young - Friday, October 31st, 1969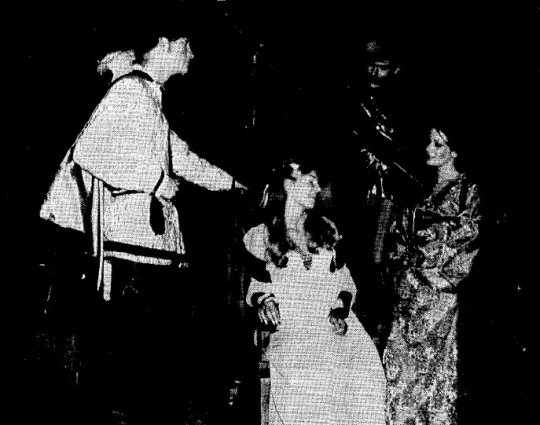 William Shakespeare would have been proud of FJC's interpretation of his "Othello," continuing tonight in the campus theater as "one of the most professional shows" that has been done here, according to a consensus of drama students.
"Shakespeare is difficult at best," comments Director George Stoughton, who picked the play because it is one of his favorites, but also because it is of educational value of the students.
Elizabethan drama imposes a style of acting that is "difficult to communicate," but the actors are improving in the proficiency as time passes. Curtain goes up at 8 p.m. tonight and Saturday on this two-and one-half hour show that has enjoyed great popularity since its origin.
Audiences were enchanted because "the actors believed in characters... they got the feel of what they were doing." The sets and costumes were achieved at no little expense, and the exquisite atmosphere that surrounds the play was created by these justly worthwhile efforts.
The role of Othello, one that demands great depth and offers "a full emotional range," is "exceptionally" played by Bill Verderber. The star has made a vast improvement over previous roles, in bringing across a fresh interpretation of a 365-year-old character.
Immeasurable Experience
A conservative estimate of 5000 man hours have gone into this production of the classic Shakespearean tragedy. In six weeks of rehearsals, the actors have received "experience of a depth that cannot be matched by any contemporary work," according to director Stoughton. The majority of the work was done in the last two weeks.
"Othello" has been a very logical show to work with, and a challenge to its cast and crew. Minimal cutting was necessary as the original length was impractical. "Othello" has been a very local by current standards.
Universal Emotion
Not only is the play of unusual interest because it is being studied, but it treats emotions that are universal and persistent.
The setting is Venice, and the characters are of a consummately evil nature. The first act of the tragedy is necessarily exposition, with the second and especially third acts exploding in love jealousy hate emotions. The intensity builds to its ultimate climax, with death and self-evaluation playing important roles.
Glen Todd designed the sets, and Steve Woody put his creative talents to work on the lighting.The combined efforts of all involved present this story of Othello, The Moor of Venice, with much imagination and reverence.