---
'Merry Wives' Open FJC Drama Season
—
Fullerton College Hornet
- Chuck Hahn - Friday, October 29th, 1971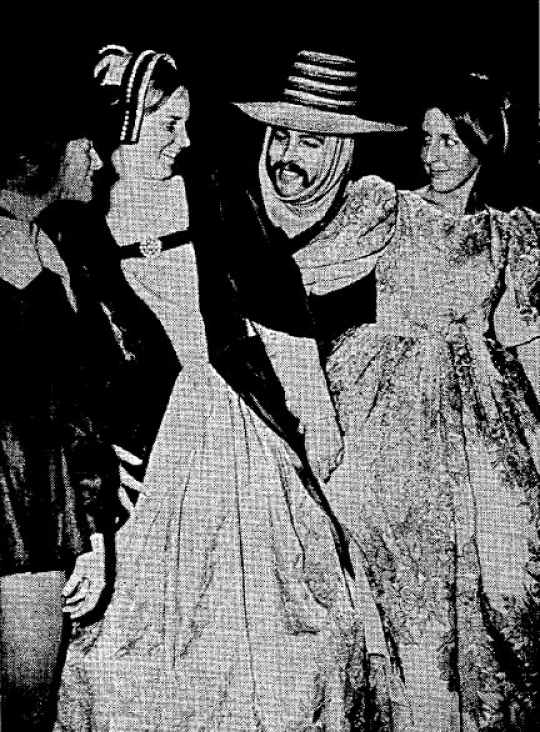 Journey to 16th century England and meet the uproarious townspeople of fair Windsor as the FJC
Drama Department debuts its first fall play, Shakespeare's "Merry Wives of Windsor" in the Campus Theatre, Nov. 4. Cost of the "excursion" will be $1.75 for adults and special student rate, $1.00.
Shakespeare, the successful producer - actor - playwright, created "Merry Wives of Windsor" in fourteen days. The play has had a long and honorable stage history and is said to have been written for the stage rather than to be read, although its dialogue is funnier in reading.
George Stoughton, a ten-year member of FJC's Theatre Arts Department, will direct the play. In his career in drama Stoughton has wide and various experience as an actor, technical director, costumer, and director. In 1968-69, he took a years sabbatical leave to study in London. His love of Shakespeare's writings led to the production of 'Merry Wives of Windsor."
Aiding Stoughton is Todd V. Glen, a graduate of the Yale School of Theatre, as set designer and technical director and Mrs. Gwen Sharoff as costumer.
As with many of Shakespeare's plays, the play is said to be based on some ancient tale, exemplified in many French fabliauy and in the plots of a number of popular comedies. The plot is simple enough but a masterpiece.
Councilman as Falstaff
As the curtains part, you will meet the charming trickster, Sir John Falstaff the leading character portrayed by 27 year old David Councilman. Returning to school after a summer tour with Robert Camps' Company of Requiem Forman, this is Councilman's first role in the educational theatre in ten years. He has appeared in such.- plays as "the Rainmaker" and "Inherit the Wind."
Frank Ford, the wealthy Windsorian jealous of the slick Falstaff, will be played by Wayne Bearss, a veteran of FJC drama productions. With much experience in acting, Bearss is said to fit the role of Ford, one of the more difficult parts of the play.
Other performers portraying roles in "Merry Wives of Windsor" are Don Campbell as Evans, Kenneth Blackford as the money hungry Dr. Caius, Mistress Ford performed by Debbie Topolnak, Mistress Page by Joanne McAlpine and Jacquie MIendenhall as Mistress Quickly.
Also appearing in the "Merry Wives of Windsor" are Jim Goodwin, Steve Winget, Gary Walsh,
Mike LaValley Chuck Hilbert, Nick State, Mike Silliman, Fred Tcrres Philip Wissbeck, David Wilson Susan Adams, Pandora Ernst, Arlene Cashen, Carol Garrison Karen Innis, and Veda Poindexter.
Performances are scheduled for Nov. 4 5, 6, and 11, 12, 13 at 8:00 p.m. To insure admittance reservations can be made. Call 871-8000 for tickets or information.