---
'JB' to Open Tonight at FC
—
Fullerton College Hornet
- Staff Writer - Friday, November 22nd, 1974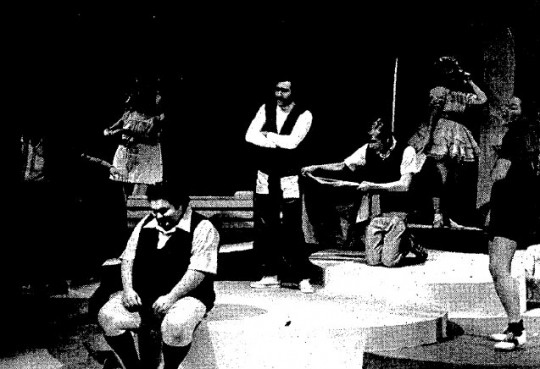 The Fullerton College Theatre Arts Department, under the direction of George Archambeault, will be presenting play entitled "J.B." The play, which was taken from the Bible, generally centers around the Book of Job from the Old Testament.
The theatrical presentation of "J.B." won the Pulitzer Prize in 1958 when it appeared on Broadway in New York. Rather than have the play take place. during the time of Job the setting has been brought up to the present. It is a modern day version of the Book of Job with most of the action taking place in a circus tent. Although the characters are taken from the Bible they are placed in modern day situations and the audience gets to view how they themselves might have responded to our present world. Wars, crimes, traffic accidents, and generally all types of problems plaguing us today are depicted in the play.
The character J.B.; who is representing Job from the Bible, is being portrayed by student-actor Richard Blomgren. The rest of the cast includes Scott Faris and Eric Miller as the first and s cond Roustabout; Bill Greenlee as Nickles; Kevin Brown as Mr. Zuzz; Nedda Shrum as Sarah; Robert Caudill as David; Debbie Durant as Mary; Charles Williams as Jonathan; Sheri Murray as Ruth; Brenda Lewis as The Girl; Carol Broussard as Jolly; Patti Corbett and Debbie Garrison as the Prop Woman and the Prop Girl; Kenneth Blackford as Bildad; Bob LeMontagne as Zophar; James Gallion as Eliphez and Ray Garling as the third Roustabout.
The play opens tonight with five other performances scheduled for Nov. 23, 25, 26 and Friday and Saturday, Dec. 6 and 7. All performances will be held at the FC Campus Theatre and curtain time for all presentations is 8 p.m.
Tickets may be purchased at the FC theatre box office, which is open weekdays from 8:30-3:00 p.m. Tickets may also be purchased up to two hours before performances. Admissionis $2.50 for adults and $1.50 for students. Special group rates will be available.
Any additional information regarding the play "J.B." may. be obtained by calling the Theatre Arts Department at 871-8000, extension 77.