---
Calamity not Finished Yet;Jane Rides Again Soon
—
Fullerton College Hornet
- Staff Writer - Wednesday, June 14th, 1967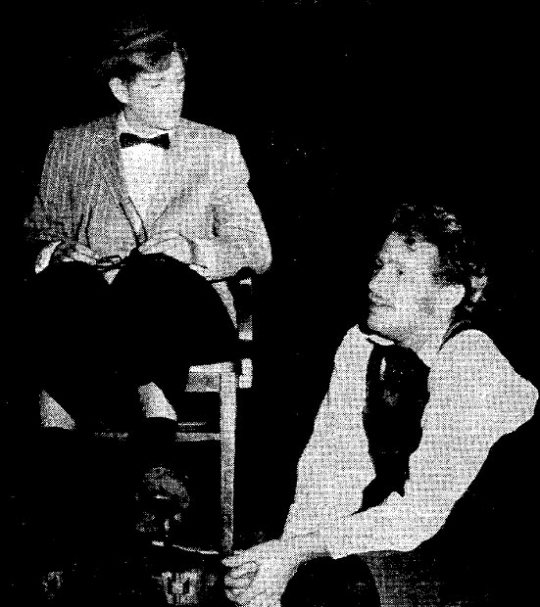 The return engagement of "Calamity Jane" by the Theatre Arts Department will be presented, after four successful summer performances, Thursday evening Sept. 21, and will play each evening through Saturday,. Sept. 23.
STAR MEMBER
Margie Hayes plays Calamity, Lt. Danny Gilmartin is played by Jerry Watson, and Larry Wiemer is ex-lawman Wild Bill Hickock. "Calamity Jane" centers around Deadwood, South Dakota during the gold rush days of 1876. "Between playing cards and prospecting Wild Bill is really in love with Calamity," said Mr. Richard Thompson, theatre arts publicity director, "but he keeps a running verbal battle throughout the show."
SATISFIED DIRECTOR
"One of the more interesting aspects of working on this production was developing musical
numbers such as 'The Deadwood Stage', 'Windy City', 'I Can Do Without You', and the academy award winning number 'My Secret Love'," said Mr. George Stoughton, director of the production.
Other cast members are Janet Bartholomew, Cathy Brambley-, Judy Chandler, Kimberly Irvine, and Diane DeMunyon, Sue Roberts, Mary Seller, Beckie Villalvazo, Ray Harp, Bill Howard,Chuck James, and Larry Travis.
"A number of major characters, even though attending other schools, have without any hesitation accepted the challenge of the return engagement," said Thompson.
BEARDSLEY OPTIMISTIC
Student Body President Bob Beardsley stated "From the rehersals I have seen, the show should be a great success as it was this summer. The cast is very enthusiastic about the show and is anticipating opening night.
Technical Director is Don Cohen. Choreography is by Modesto Busto, and Brenda Parks is lighting director. Others involved are Hazel Hosmer, technical assistant; Jama Robertson, assistant musical director; Trina Portillo, costume designer; and Todd Glen, set designer.