---
'Water Engine' debuts
—
Fullerton College Hornet
- Julie McAuley - Friday, October 19th, 1979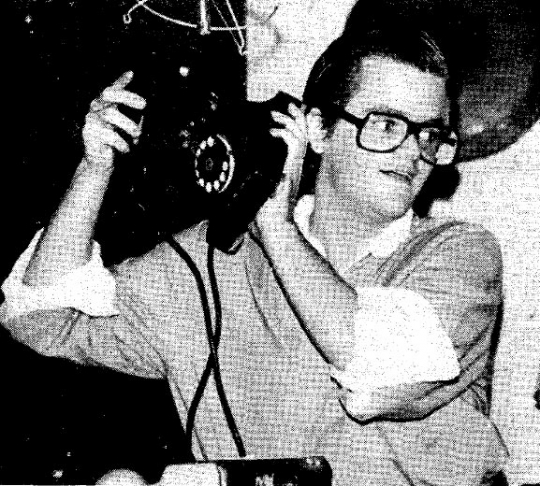 "The Water Engine" and "Mr. Happiness" opened Monday night in the Campus Theatre and completely intrigued an appreciative audience for 70 minutes. The west coast premiere of David Mamet's plays appeared last year on Broadway.
The audience enters the theatre and becomes part of WGN's radio station, complete with oldtime mikes, sound effects system, live singing commercials and slides that coincide with what's happening on stage.
The evening begins with "Mr. Happiness"'a one-man show starring Dennis Dawson. Mr. Happiness is the Dear Abby of the '30s, a radio personality who answers listeners' letters over the air. Dawson brings believability to a difficult role.
The show continues with "The Water Engine," a weekly radio serial. The play centers on Charles Lang, a young inventor who has created an engine that runs on water. The villains are big businessman Gross and sheister lawyer Oberman who attempt to steal the plans for the invention from Lang. Hereafter, he play moves along at a rapid pace and ends so abruptly I was caught holding my breath.
Michael A. Kane is excellent as Lang. He carries you along as he moves from one emotion to another effortlessly. Bob May as Gross and Gregg Potvin as Oberman are perfectly cast as villians.
Other memorable cast members are Beverly Cliff as the Jewish mama and Jim Green as her son, Fran Jaskawiak as Mrs. Varec and Dave Kelly, a real scene-stealer as the gruff newspaper editor round out the cast nicely.
Director Jim Henderson has done a superb job of creating a suspenseful drama for the imaginary as well as the real audience.
The show continues through Oct. 27 and tickets may be obtained from the theatre box office Monday through Friday from 10 a.m. to 4:30 p.m. or by calling 871-8101. Admission is free with an ASB card.