---
'Box' Success for FC
—
Fullerton College Hornet
- Julie Mcauley - Friday, March 14th, 1980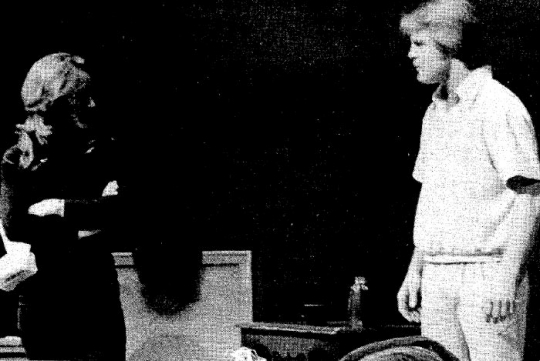 "The Shadow Box," the 1977 Pulitzer Prize-winning play, opened March 5 in the Campus Theatre at Fullerton College.
Written by Michael Cristofer, the play was an instant hit upon its Broadway opening. This FC production seems to be done as professionally as its Broadway counterpart.
"The Shadow Box" deals with three terminally ill patients, housed in three cottages on the
hospital grounds. The patients' families have been invited to live with them during their final days.
Each of the three families are introduced to the audience by way of their conversations with an unseen interviewer (John Zigler).
In Cottage 1 is Joe, with his family members Maggie and Steve. Joe has come to terms with dying. His one regret is not buying the farm he once wanted. Joe Franklin as Joe brings understanding to a sympathetic role. Franklin plays the character as an upbeat individual who is glad to have these last moments with his wife and son.
Karen Jessep as Maggie shows herself to be a lovely actress who easily makes the transition from one emotional plane to another.
Although the role of Steve is small in comparison to the others, Jay Hodges' performance is no less skillful. He is a typical teenager-excited, hurt, but accepting, when it means the most.
Brian inhabits Cottage 2 with Mark, a "friend in the Greek sense of the word." Mark is sensitively played by Mike Nelissen, a handsome actor who handles his role with style.
Bob May is excellent as Brian. May is a gifted actor and seems to steal thunder without trying. The audience is deathly quiet during his poignant conversation with the interviewer.
Maggie Nitz is Beverly, Brian's ex-wife. Anyone who has ever loved and lost will empathize with Beverly. Nitz plays the alcoholic, fun-loving party girl well. In her performance she allows you to see that her foolishness is merely a facade, that underneath she is hurting too.
Cottage 3 inhabitants are wheel chair-bound Felicity and her spinster daughter, Agnes. Peggy O'Hara as Felicity plays the crotchety old lady with humor and pathos. In ribald language she tells it like it is. But it is Frannie Jaskowiak as Agnes who tugs at your emotions.
She is an eldest daughter, trapped in a tangled emotional web. Agnes helps her mother live in a fantasy world involving her younger sister who died years ago. Jaskowiak plays the meek daughter so well that when she finally does explode at her mother, the audience cannot fault her, but understands her.
The set, designed by Todd Glen, is appreciable for its simplicity of design, proving that a set doesn't have to be ostentatious to be good. Donna Ruzika's lighting was used well throughout to create just the right mood.
Director Sydell Weiner has done a good job of creating this enjoyable piece of theater. She has polished her actors to a fine finish, and gives us a three hankerchief play.
"The Shadow Box" is a story about dying, but not of death. It is a story of forgotten dreams and plans for the future.
The production continues through Saturday, March 15, with curtain time at 8 p.m. For more information call 871-8101.