---
Hippies Invade Campus in Production of Hair
—
Fullerton College Hornet
- Cyndi Benjamin - Tuesday, March 13th, 1990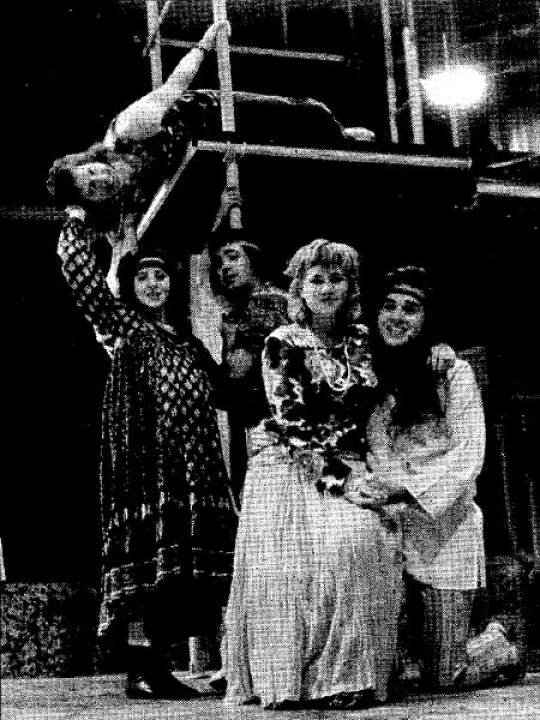 Peace, love, rock and war will reflect the 60's movement, as the musical production of "Hair", directed by guest director Gary Gardener will bring back those days of protest and rebelliousness to the Campus Theatre stage from March 22 to April 1.
This particular piece, that exhibited the youth of America in the 60's will provide an outstanding view of that era as the FC Theatre Department has designed a set that keeps the flavor of the social changes that took place, the styles and the attitudes the youth had towards politics and the draft.
Under the direction of Gardener, a UCLA professor of musical theatre, playwriting and directing, the performance will keep the mood of the actual broadway production which initially hit the stage in 1960.
The set of the production includes wild clothing with bold prints, a van covered with graffiti and bold colorful flowers and a stage design that gives the production a psychedelic touch.
Along with the setting, the production will also highlight the musical aspect of this time period. Songs such as "Aquarius," "Let the Sun Shine In" and "Where Do I Go?" are among the several music selections of the evening.
The production basically is surrounded by the character Claude Bukowski, played by Keith Henderson of Laguna Beach, and his commune of friends who later in the production show their reaction to the fact that Claude is drafted into the army.
The peace loving groups feelings are basically reflected on the theory "make love, not war", which leads them more into a rebelling stage to keep their friend out of the army.
Joining Henderson in the leading roles are Dawn Marie Ashley, (Diane), of Huntington Beach; Aimee Boice, (Dionne) and Bronwyn Dobson, (Jeannie), of Orange; Steve Glaudini, (Margaret Mead), A.E. Kessel, (Woof), Jose Lavarreda, (Ron) and Brook Wills, (Sheila), all of Fullerton; Jennifer Marchand and Bradley A. Whitfield, Whittier; Monique Naffaa, Buena Park; and Jeff Weeks and Cress Williams, Anaheim.
Others included in the ensemble are,students Ralph Aparicio, Sherry Askew,JamesGattuso,Paul Hagerty, Jeffrey Hobbs, Richard Levine,Laura Orlow, Laura Schifferli and Mary Thorton, Anaheim; Kristen Bean, Valerie Bugge, Gina Karabe, Marilyn McLaughlin, John Nation, Thomas M. Neileigh and Carrie Lee Payne, Fullerton; and Melissa Arnold, Jennifer Bishton and Aimee Feeger, of Placentia.
Tickets for the production are $7 for general admission, $6 for students and $5 for senior citizens, and are available in advance through the Fine Arts Box Office or by phoning (714) 871-8101, weekdays from 11:30 a.m. to 1:30p.m., and one hour prior to curtain time.