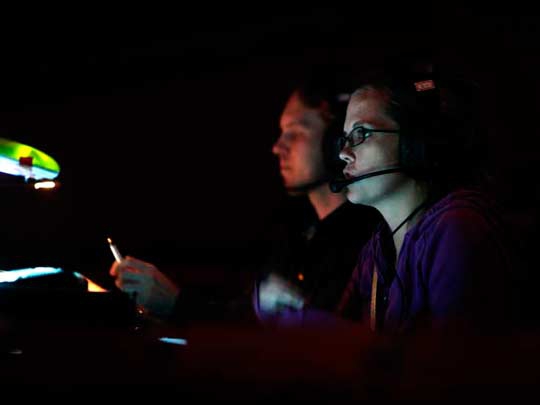 Stage Management Certificate
Program Code: 2C18749
The Stage Management Certificate is designed to prepare the student for occupational competency as a Stage Manager in educational, community and resident theatre venues as well as theme park, television and motion picture studios. This certificate program requires a total of 37 units of which 31 units are in required courses. All courses must be completed with a grade of "C" or better.
Program Level Student Learning Outcomes
Outcome 1: Organize and create a prompt book relevant to a theatrical production. Outcome 2: Analyze and evaluate the production requirements of a play or musical. Outcome 3: Design, assemble and evaluate a theatrical play season. Outcome 4: Identify and interpret common themes and purposes in producing a theatrical production. Outcome 5: Evaluate and compare the job descriptions of theatrical production personnel. Outcome 6: Identify and contrast the various theatrical unions and how they relate to a theatrical production.
Required courses:
Units:21
Introduction to the Theatre
Introduction to Technical Theatre
Introduction to Sound Technology
Beginning Theatrical Lighting
Required Stage Crew Activity courses:
Units:2
Introduction to Stage Crew Activity
Beginning Stage Crew Activity
Intermediate Stage Crew Activity
Advanced Stage Crew Activity
Students are required to fulfill stage management positions for required production courses:
Units:8
Beginning Theatre Practicum
Intermediate Theatre Practicum
Beginning Musical Theatre Production
Intermediate Musical Theatre Production
Restricted electives:
Units:6
BUS 262 Principles of Management
CIS 111 F Introduction to Information Systems
Introduction to Theatre Appreciation
Introduction to Summer Theatre Workshop
Beginning Summer Theatre Workshop
Beginning Playwright's Practicum
Intermediate Playwright's Practicum
Beginning Director's Practicum
Intermediate Director's Practicum